If you're heading to Hawaii and wanting to visit multiple islands, you'll soon realise that you'll need to buy airline tickets to fly between the islands. While a ferry service has operated at times in the past, and still operates to the smaller islands of Molokai and Lanai off Maui, these days the only way to get between the large islands in Hawaii is by plane, unless you embark upon a cruise. Depending on what Hawaiian islands you're flying between, you'll generally have at least two options, sometimes more. So, how do the different Hawaiian inter-island flights compare?
Note: This post contains affiliate links, which means I may receive commission if you make a purchase using the links.
Hawaiian Airlines
The first airline you're likely to consider is Hawaiian Airlines. They're the most prominent airline, and also fly to many destinations outside of Hawaii, so you're likely to already recognise their name. However, they also are generally the most expensive airline. At least on the direct routes and days that I compared options.
I flew Hawaiian Airlines to get from the Big Island to Kauai. It wasn't a direct flight (no commercial airline flies directly between the two), but had a stopover in Honolulu. Because I could buy it on a single ticket, it was far cheaper than buying two separate tickets, being priced not much higher than the individual tickets. Additionally, the layover time that I could select varied widely. I choose to have about a 45 minute layover, reasoning this was enough for a small airport and flying with the same airline (plus, they allowed me!)
Update: Hawaiian Airlines will be starting a Kona (Big Island) to Lihue (Kauai) route in March 2017
Just because the tickets with Hawaiian Airlines are more expensive, doesn't mean that you have any extras with the service. No check-in luggage is included and the only refreshment is a small popper or water to drink on the flight. The planes are larger and possibly newer, jets rather than propeller planes. What really stood out is that both flights I took were late boarding, which then took awhile as the flights were both full. However, we still left approximately on time, the plane leaving the gate as soon as all passengers were on board.
Click here to search for flights with Hawaiian Air on Skyscanner
Island Air

The inter-island airline operating the next largest planes is Island Air. Most of its aircraft are around 60 seaters, although they're propeller operated rather than jet. Until recently they only flew between the main airports on Oahu (Honolulu) and Maui (Kahului). However they recently started flying to Lihue Airport on Kauai from Honolulu (I flew on one of the earliest flights). Plus from 14th June 2016 they're scheduled to start flights from Honolulu to Kona, on the Big Island.
The tickets with Island Air were generally the cheapest option, if multiple airlines flew the same route. They're like a more budget alternative to Hawaiian Airlines, with smaller and older aircraft, plus at Honolulu Airport they arrive and depart from the small, tricky-to-find commuter airline terminal, off to the side of the main inter-island terminal that's just for Hawaiian Airlines. However, just like Hawaiian Airline no check-in baggage is included, and you're also provided with almost the same drink on board, the cabin crew quickly handing out the drinks then collecting the rubbish immediately after on the short flight. With the short flights involved, they're worthwhile selecting to generally save about 20% compared to Hawaiian Airlines.
Click here to search for flights with Island Air on Skyscanner
Mokulele Airlines
While Mokulele Airlines has a larger fleet than Island Air (at least according to Wikipedia), the aircraft is far smaller. When I flew with them (from Maui to Kona), the small plane was an 11-seater. Plus there were 2 seats for the pilot and co-pilot. What also distinguishes them is they also fly to many of the smaller airports not visited by Hawaiian Airlines or Island Air. For example they fly to the little airport at Hana, at the end of the Road to Hana on Maui.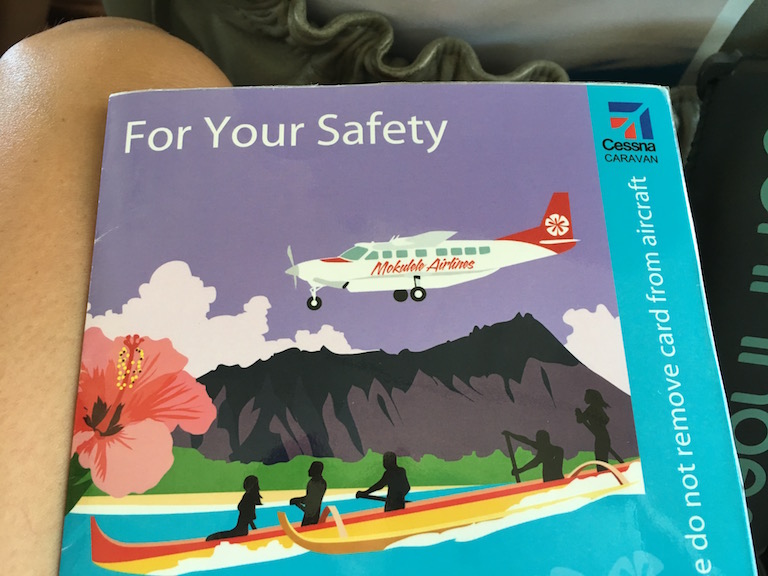 What stood out for me the most about Mokulele Airlines, apart from the small aircraft, is the fun and relaxed attitude about flying with them. In this day of stressful flights, due to the high security precautions and the cattle-like treatment, Mokulele were refreshingly different. When checking in at Maui, there was no security to go through. (Although this is in place at Honolulu Airport.) The pilot briefing occurred when the co-pilot turned around and lifted aside the curtain. Phones were okayed to use for photos (but not calls) during the flight, unlike on Island Air were phones were prohibited. And as the co-pilot remarked, we also were all in first-class, with a window seat each!
Unfortunately we spent most of the flight above the ocean, meaning it wasn't as scenic as a strictly scenic flight. But the view was glorious when we were coming in low above the coastline on the Big Island. If you're not comfortable with small planes, you may want to avoid Mokulele Airlines. Otherwise, they were definitely my favourite airline, and worth paying a midway fare in between Island Air and Hawaiian Airlines for the flights!
Click here to search for flights with Mokulele Airlines on Skyscanner
Inspired? Pin this to your Pinterest board!